As we all remain under "shelter in place" and "social distancing" guidelines in response to the COVID-19 pandemic, we at Cremation Society of America are here to remind you that Direct Cremation is the only end-of-life arrangement to allows you to fully comply with those guidelines. And we are ready to meet your Direct Cremation needs.
Should your loved one pass away during these days of seclusion and self-confinement, it could be difficult or even impossible to arrange for a funeral service due to the prohibition of large gatherings. reluctance of many to gather in large groups.
With a Direct Cremation, you can arrange for your loved one to be cremated without having to leave your home yet preserving the dignity of your loved one. Once you receive your loved one's Cremains, you can wait until after the COVID-19 restrictions are lifted to hold a memorial service for your loved one. With a funeral or burial in the current climate, you don't have the option to wait for an opportune time to gather family and friends in large groups.
Another advantage of Direct Cremation is that is far more affordable than a traditional burial. option for a loved one. At Cremation Society of America, our Direct Cremation packages start at only $795.00 with the option to upgrade to more comprehensive packages that include an Urn Allowance, for example. You can also order features such as Cremation Jewelry and Celebration of Life Kits.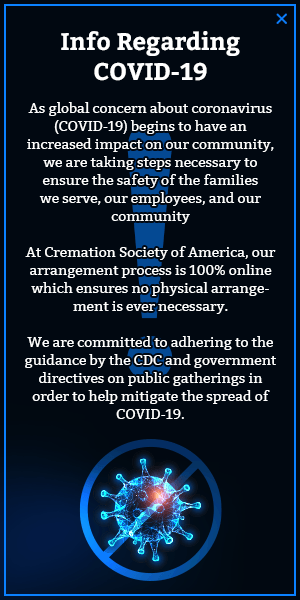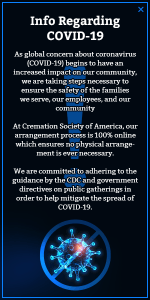 Direct Cremation is ideal during these days of pandemic because you can arrange your loved one's Direct Cremation without ever leaving your home. Our industry-leading secure Online Ordering System can be completed in just a few minutes and is easy to understand. Here are a few highlights of our Cremation Online Ordering System:
Choose either Direct Cremation for a loved one who has passed or Pre-Plan for a Cremation in the future
Enter your contact information
Choose from one of Three Packages
Select Medical Examiner Cremation Approval Fee, if applicable
Select Delivery Method
Order Death Certificate(s)
Choose from a selection of Cremation Jewelry and Celebration of Life Kit options, if desired
Enter Billing and Shipping Addresses
Enter payment information
Complete the Necessary Forms
You simply SUBMIT and you're all set! The entire process takes just a few minutes and we'll take care of the rest.
Please note that we have taken the steps necessary to safeguard the health and safety of our employees while maintaining full business operations and continue our excellent service levels. All of our employees have been encouraged to work from home and we have suspended all nonessential travel. With a highly-capable team, this transition has been relatively smooth and we continue to deliver the highest service  possible.
We at Cremation Society of America are confident that we, as Americans, will join together to make it through these troubling times to end up closer, stronger and ready to live life to the fullest. Please stay safe and healthy as you spend time with your family.
We look forward to serving as your trusted Direct Cremation resource. Click here to Order NOW.